Welcome to CaysArt, Fine Art by Sally Cays, Galleries of Realistic Watercolor Paintings, Prints, Workshops, Online Art Lessons, and now, Music by Jeremy Cays
Check out the announcements below for NEW stuff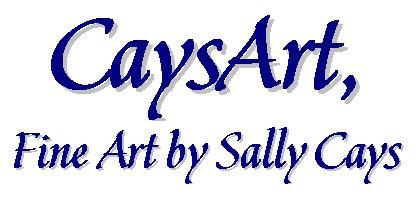 WATERCOLOR FLORALS, STILL LIFES, PORTRAITS, 12-STEP RECOVERY ART, ANIMALS, FANTASY ART
---
*New* Acrylic Paintings
---
Oak Encircled (SOLD)
Garry Oak trees are the only oaks native to Washington State, they're also found all down the west coast from British Columbia to California. I just think they're beautiful and we have a lot of them here in Sequim. Now that I'm learning to use acrylics I feel more confident painting landscape types of paintings, and trees in front of cloud backgrounds are something I've wanted to paint for a long time. So I've included several first attempts at that subject matter. I'm having fun.
---
Finn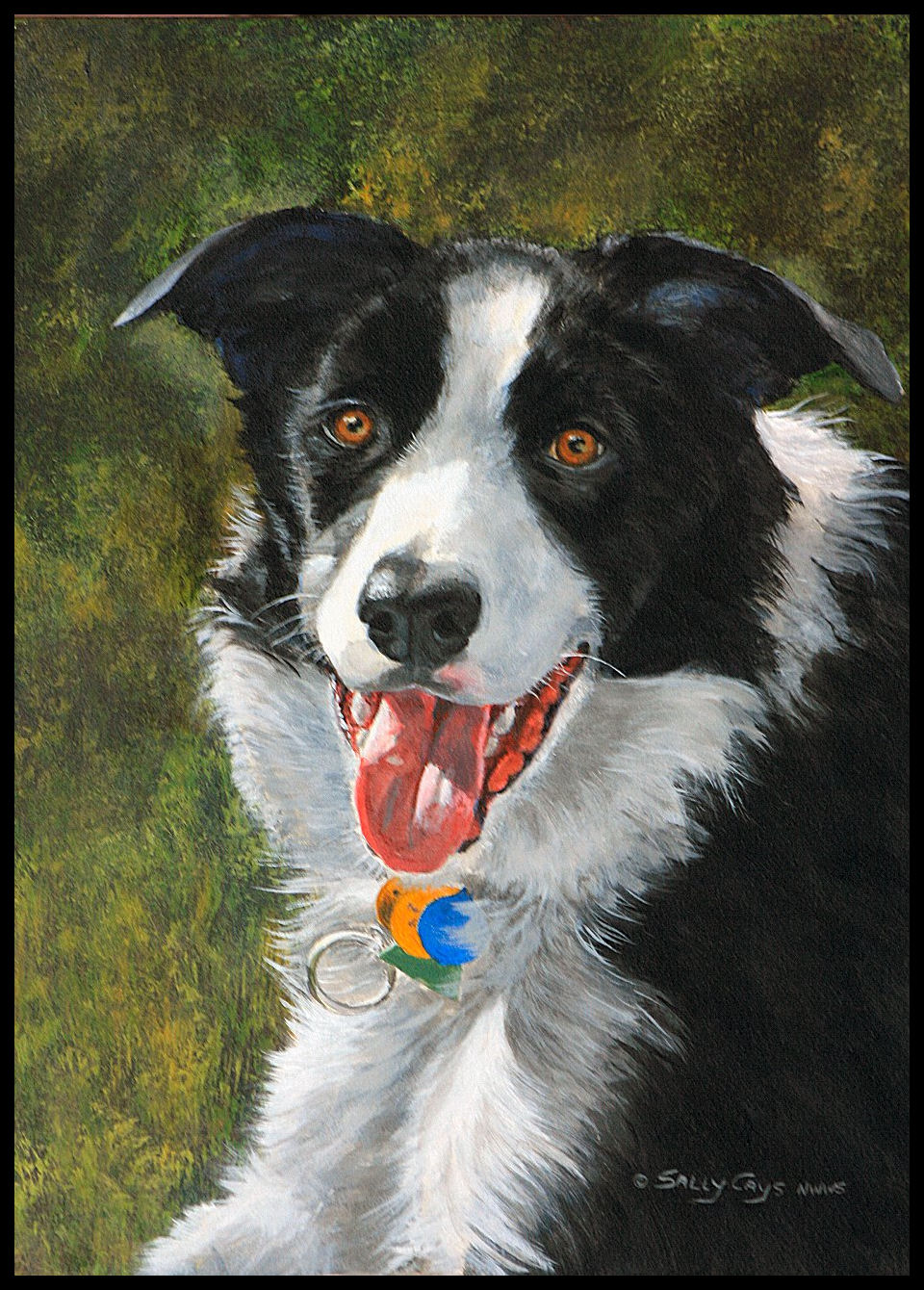 Finn is a marvelous border collie I was commissioned to paint. His portrait is the first totally acryllic portrait of an animal I've done, and I'm really pleased with the result. I think I captured the personality of this happy, active dog quite well, and the owners were delighted when it was delivered.
---
These Are My Mountains
The Olympic Mountains, the scene I see out of my back door. I've wanted to paint them for a long time and now with acrylics I've done it. You may see more of these.
---
New Watercolor&Acrylic Painting
Saphira
This is a comission for a friend. I started it with watercolor, got stuck, and finished it with acrylics. This is a really wonderful cat who loves to ride around on her owner's shoulder, and even likes to ride in cars. She was a bit rough on my cat, Dusty, but that's the nature of siamese. You'll see Dusty in the next image.
---
New Watercolor Painting
Stop and Smell The Tulips
I was taking reference photos of tulips when Dusty, got curious and had to investigate what I was doing. This painting is the result. I don't think she ever understood what was so fascinating to me about those flowers, they certainly weren't anything worth eating.
---
INFORMATION CLICK HERE* * Online Art Lessons * *INFORMATION CLICK HERE
LEARN TO PAINT PORTRAITS OF THE CHILDREN YOU LOVE
"Thanks Sally for this tutoring, I have learned some techniques that make me feel a little more comfortable with portraiture. I am eager to do the next one and see what I can achieve on my own. If you are planning any more online tutorials please email me and let me know...I would love to do a flower class with you as well! Your flowers are truely stunning. If you would like to use any of this letter for testimonial, please feel free to do so."
All the best to you, - Debbie
---
To see the work of Patricia Taynton, one of the finest equine and wildlife artists anywhere, who is also the only other artist invited to show in my gallery: CLICK HERE
---
---
[Home] [Gallery Guide] [Originals] [12 Step Recovery] [Florals] [Still Lifes] [Portraits] [Dogs] [Fantasy] [Birds]
[The Artist] [Philosophy] [Prices] [Ordering] [Splash 5] [Splash 6] [Workshop Newsletter] [Learn Online]
---
Email me - - or 'phone: (360) 683-5387 or 360-460-4728
---
Website Designed and Copyrighted by Sally Cays, 1998. All rights reserved.
All Artwork on this site is copyrighted by the Artist. Reproduction or distribution in any form of
the artwork presented here without the prior written consent of the artist is strictly prohibited.